Click here to see our à la carte menu.
Our restaurant has seating capacity for 240 guests.
We serve you real food, cooked from scratch with carefully selected ingredients.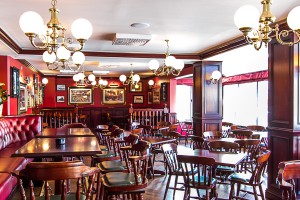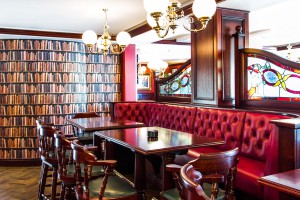 Lunch
Conferences, groups and companies are welcome to make reservations for lunch or dinner. We also arrange jubilee´s funeral servings and weddings. Please contact us for more information!
We also offer catering, contact us by telephone +4658245750 or email info@hotellstinsen.com with your enquiry! 
Old English Pub
Monday to Saturday 17.00-22.00
Here we serve our pub menu, with amongst other dishes our popular hamburgers and fish´n chips. Fridays and Saturdays we also serve our sourdough pizzas!
To see the whole menu, pleas click the link in the left hand corner.
You can also have all our food as  take away!
You are very welcome to visit us!
The pub kitchen is open Monday to Friday  17.00-21.00

Our breakfast buffet
Monday to Friday 06.00-09.30 Saturday and Sunday 07.00-10.00
On our breakfast buffet you will find:
Serveral kinds of white bread
Several kinds of dark bread
Dark whole grain sliced bread
Toast
Swedish crisp bread
Glutenfree options are available
Butter and margarine, lactos freee and milk free options are available
Cheese
Ham
Turkey
Salami                                                                                                                  Leverpastej
Pickled herring
Swedish caviar
Tomato
Cucumber
Paprika
Home made marmelade
Home made jam
Boiled eggs
Oatmeal
Cornflakes
Muesli
Specialcerial Red Berries
Dried fruit
Rasins
Sunflower seeds
Milk
Yoghurt, plain-, vanilla-, berries- fruit-
Sour milk
Lactose free and milk free options are available
Fruit
Coffee (brew, latte, cappucino, espresso, macchiato)
Thé
Several kinds of juice
Breakfast is always included when you are staying in the hotel.
Even if you are not staying with us, you are welcome to eat breakfast here. The price then is 105 SEK per person
Very Welcome!